Trusted Website Design Service Provider In
Sri Lanka – KOceanSoft
Improve your website speed with complete website design to get user experience, more traffic, conversion and also reduced bounce rate.
Every successful business will have a responsive, user-friendly and smart website design. Whether you are an existing business owner wanting to revamp your website to get more leads online or a new business owner wanting a digital presence, we will curate the perfect solution for you. An excellent website design with easy navigation will speak volumes about the kind of business that you are. A professional website also requires credible content and we can help you with that too. Smart web design will make the visitors stay and read on to what you've got to offer. The user-friendly and responsive website design should be an important feature of your brand. This not only boosts your appeal but also build authority. Leads will convert quicker than you think when your website meets their expectations.
KOceanSoft – Leading Website Design
Company In Sri Lanka
At KOceanSoft, we offer end-to-end web design solutions to your business needs. We have a professional team of excellent graphic designers, website designers, content marketers, UI/UX specialists, and digital marketers to offer a 360-degree digital solution. From designing your website to managing your social media pages, we can do it all. We aim to grow your business with result-oriented solutions and measurable outcomes. We are always willing to adapt and can build a website on any platform. We aim to add value to your business and realize your goals by refining your ideas. Hundreds of clients have loved our work and we hope you do too.
Technically flawless, scalable website design
You want your website to have a solid foundation with reliable, secure codes. No matter how simple or complex your website is our front-end designers and server-side developers stick to the coding best practices from the very beginning. As a result, you'll get a robust, scalable website which can be easily extended with new features and functionalities as your business grows.
Website design tailored to your business needs
You want a website that is customized to your specific requirements. That's why we never use preset templates in web design. All our custom website designs are built from the ground up with your requirements in mind. We take the time to learn about your business, your customers, and specific needs so that your website is not only beautiful but also helpful to grow your business in a meaningful way.
User-friendly website that drives conversion
Best website design is not just about looking great. Your website needs to be user-friendly and optimized for conversions. Our UX experts do in-depth research and planning on user-flow to make your website as intuitive and seamless as possible. We take your website through multiple testing phases to ensure it meets your customer needs.
Mobile-friendly and optimized for search engines
We know it's important for your website to be found in the search results. We have one of the best SEO teams in Sri Lanka who advises our website designers to make sure your site structure is consistent with the SEO best practices. For most of the businesses, more than 50% of the total website traffic comes from mobile devices. So, we make sure your website has a responsive design and provides a consistent user experience regardless of the screen sizes.
Easy to manage website with powerful CMS
You wouldn't want to call a developer to change a background image on your website, would you? Our websites are backed by powerful content management systems to give you more freedom and control over your site. We are experts in WordPress, Drupal, Magento and other popular CMS platforms. You may also want to have a custom CMS designed specially to meet your specific needs. Call or visit us to discuss your project requirements. Our office is located in Sri Lanka. But we work with clients from all over the world.
Things To Consider Before Website Designing
Whether you are a small business or a large company, a website will be the face of your brand and is a major investment. A functional website will work as a lead magnet with quantifiable conversions. Here are a few things to consider when your website is getting designed: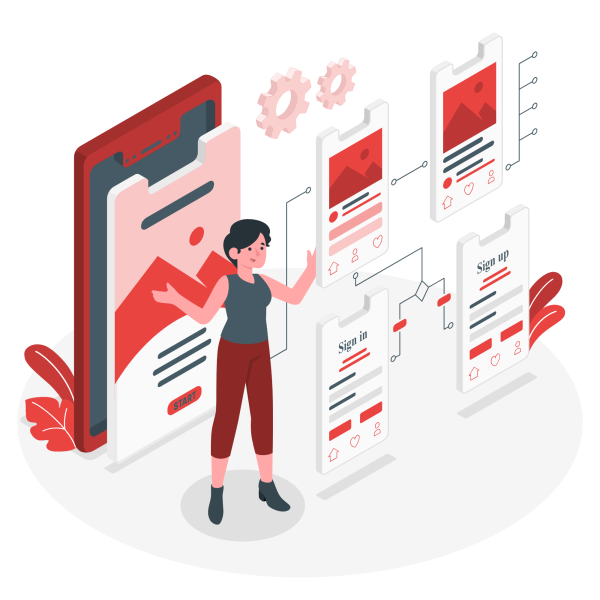 Website Design for Your Business
The design and layout of your website have the potential to make or break your brand. Successful website design does not have just one ingredient but is a combination of a lot of factors. Building an extremely user-friendly website will help you convert more leads. Paying attention to basic details is the key to building a successful website. Here's how you can make your website design a huge asset:
How Does a Responsive Website Make a Difference?
Website is a medium through which your potential customers perceive your brand. It is the first impression that they will get about your business. Whether you are looking for an Ecommerce website design or a small business website design, we will help you build the perfect one. Our custom websites make a difference as they are built using a responsive web design methodology. Here are a few benefits of an excellent website design.
Responsive Vs Adaptive Website Design:
What's the Best Choice?
Responsive Website Design
Why Choose KOceanSoft as your Website Design Company in Sri Lanka
KOceanSoft is one of the most reliable website design agencies in Sri Lanka. With our end-to-end online marketing services, we aim to convert more leads and create more sales. Every business owner will not have the time, energy or patience to build and maintain a website. Choosing web design services will not only be a great investment but will also relieve you from a lot of responsibilities. And here's why you should choose us to get the job done: