What are Content Management Systems (CMS)?
Content Management systems (CMS) are computer programs that facilitate the control, management, modification and publishing of content created for the website from a single user interface. With such managements systems, businesses can keep a check on the posted content and provide cost-effective solutions to guarantee that the content is best suited to enrich customer experience and is in line with the functions of your business.
KOceanSoft, Sri Lanka based Website Development Company offers its clients the best content management system tools with impressive results to effectively manage and control data. Being in business for over a decade and dealing with hundreds of website owners, KOceanSoft clients have placed their trust on us in regards to their content and approach us at all times for their content management needs. Our in-house software engineers has revolutionized our business as we have given full control to our clients to update their content any time of the day or night. If you have basic Microsoft Work skills, then using our Content Management system will be a breeze.
If content is King for a website, Content Management System is the Monarchy
KOceanSoft's Content Management Strategy
From a business owner's point of view, the rate of change for products and services is much faster than before. The fastest way to stay in control is to manage your website. The control panel is user friendly and the main dashboard shows you an overall view of your website content at a glance.
You have the ability to add content, remove obsolete content, and add pictures, demo videos and much more. The biggest advantage is that search engines love websites which constantly update their websites with fresh content and that means improved rankings for you. Therefore, you can now add the keywords directly on your content pages and SEO friendly URLs are automatically created.
User Friendly
Accessibility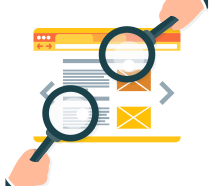 Optimization
Save Time
No obligation consultation now !!
Supported Content Management Systems
KOceanSoft's professional team can customize your content management systems to meet your exact requirements. We provide comprehensive solutions for you to fully manage your own CMS implemented with the support of our team at any point of time. We support you with:
With limitless customization of webpages, shopping cart features, plugins, Magento delivers quality content to improve your web presence. The Magento CMS is a secure platform and as such Ecommerce developers prefer using the shopping cart from the Magento Software. You do not need a CRM to integrate your customer data with the Google data for integration with Google Analytics. It is very easy to integrate the customer information and the website with this CMS. In addition, the Magento e-store can be integrated with PayPal, Google Checkouts and many other 3rd party suppliers for secure payment gateways. Also SEO Rankings, accessing rewrites and generating sitemaps are all possible with a Magento CMS. This leads to higher visitors and increase in page rankings.
WordPress is a modernized CMS and the first choice for many businesses as it takes only a couple of minutes to install and set up. With over 17000 plugins, WordPress is the most popular CMS system leaving Joomla, Drupal and other CMS far behind in the competition. It is open source and can be used to successfully design simple websites. For WordPress CMS, there is no need of prior knowledge of PHP or HTML unlike Drupal or Joomla. All you need is to choose a plugin or template and just click on it to install. Additionally, there is wide range of templates and thousands of plugins to choose from with extended functionalities to include more pages and categories.